When it comes to your child, you don't want to have to choose between a school that models Christian values and one that offers a truly thorough academic program. You want the best of both.
Thankfully, you can find that at Cherry Hills Christian School, a private school in South Metro Denver. Our rigorous instruction meets and exceeds Colorado Department of Education standards for every age and stage. Plus, when our older students transfer to high school, many of them earn spots in honors classes right away — a testament to how well our personalized approach to teaching works for children.
Fully known by God, fully supported by us.
At CHC, our private Christian school academics include engaging classes and electives that meet your child exactly where they are and equip them to be all that God created them to be. Besides caring teachers who know how to tailor lessons for each child, we also have an Academic Services team that provides support inside and outside the classroom for Preschool through Grade 8 students who need extra assistance or more academic challenges.
CHC Students are Equipped with:
Biblical Worldview
Every subject points to Jesus, and each student is embraced as a loved child of God.
Lifelong Learning Habits
We encourage curiosity, critical thinking and problem-solving. These are skills that offer a lifetime of value.
Skills to Reach Their Potential
Services, tools and facilities are designed to personalize instruction and help every student thrive.
Support to Develop Gifts
We offer a range of electives and extracurricular programs to explore interests and community engagement.
Academics matter. Where will your child learn best?
As you search for the best private school in the Denver Metro Area, we invite you to explore what's possible at Cherry Hills Christian School. Visit our campus and see for yourself how we help each student grow academically, spiritually, and socially.
Inspired by Faith, Empowered by Education
Preschool
Ages 2 – PreK
Learning and developing new skills in a playful environment.
Our Christian preschool program at CHC uses intentional play to teach core subjects, problem-solving skills, and more. We keep your child engaged and moving, thanks in part to three outdoor play areas and an indoor gymnasium.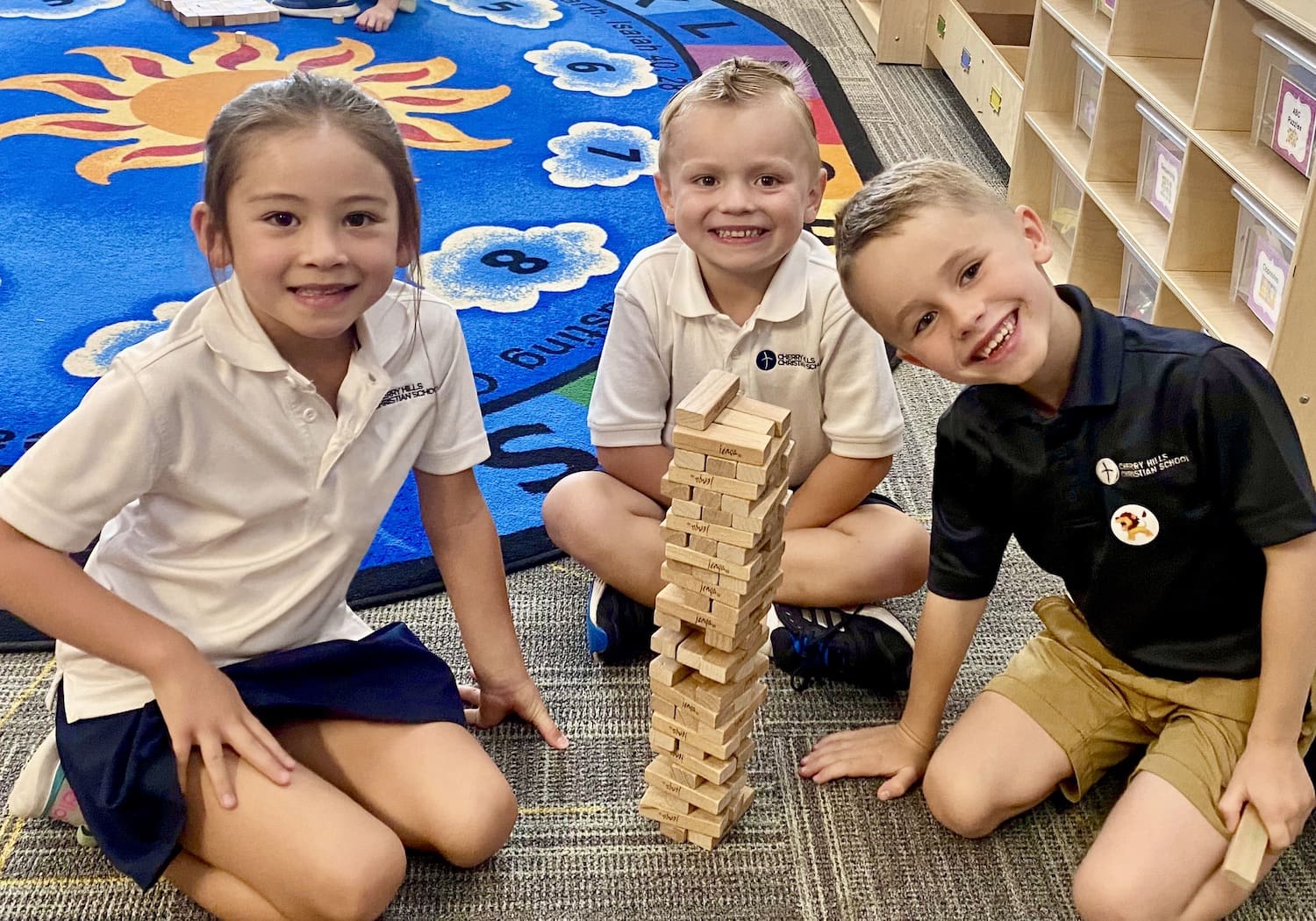 Kindergarten
Ages 5 – 6
Cultivating a lifelong love of learning.
Children are naturally curious, and we strive to fuel that interest in learning by how we approach our curriculum and by providing access to an open concept library; a safe, gated playground; outdoor classrooms; and a large STEAM classroom.
Lower School
Grades 1 – 5
A place to grow in knowledge and in service.
As a private Christian school, our academics also incorporate character development. We teach Bible as a core subject and each grade level has an age-appropriate mission population that they serve yearly. In addition to academic instruction, your child will understand the peace that comes from using their talents in service of others.
Middle School
Grades 6 – 8
Academic excellence and personal responsibility.
Personal responsibility is a crucial skill to lead a successful life. Middle School students have daily Personal Responsibility Time designed to help them develop a commitment to creating and attaining goals they set for themselves. This is also a time for students to grow in their executive functioning skills to track and complete homework, projects and other class assignments. Each student is encouraged to be an advocate for their learning, and they are given the opportunity to meet with teachers for additional support during this time if needed.
Ready to Schedule a Tour?
We welcome you to visit our campus and see for yourself how we help each student grow academically, spiritually, and socially.