Fully Known. Fully Loved. Fully His.
Just like your child, you're probably excited — and nervous — about starting kindergarten. Plus, you'll have a million questions as you navigate this big change. At Cherry Hills Christian School, we'll try to answer them all. First, though, we'd like you to know that our private Christian kindergarten program is based on the belief that your child is fully known, fully loved, and fully His. That philosophy shines through every day in how we treat your child and in what we teach your child. Keep reading to find a brief overview of what else we offer at CHC in Highlands Ranch, CO including:
Experience Kindergarten
Our Experience Kindergarten time is a great way for parents and preschoolers to learn about kindergarten at Cherry Hills Christian School.
*Parents and an incoming kindergarten student are invited to attend. Please note that we can't accommodate siblings, and childcare is NOT provided.
UPCOMING DATES
TIME: 8:45 – 9:45 AM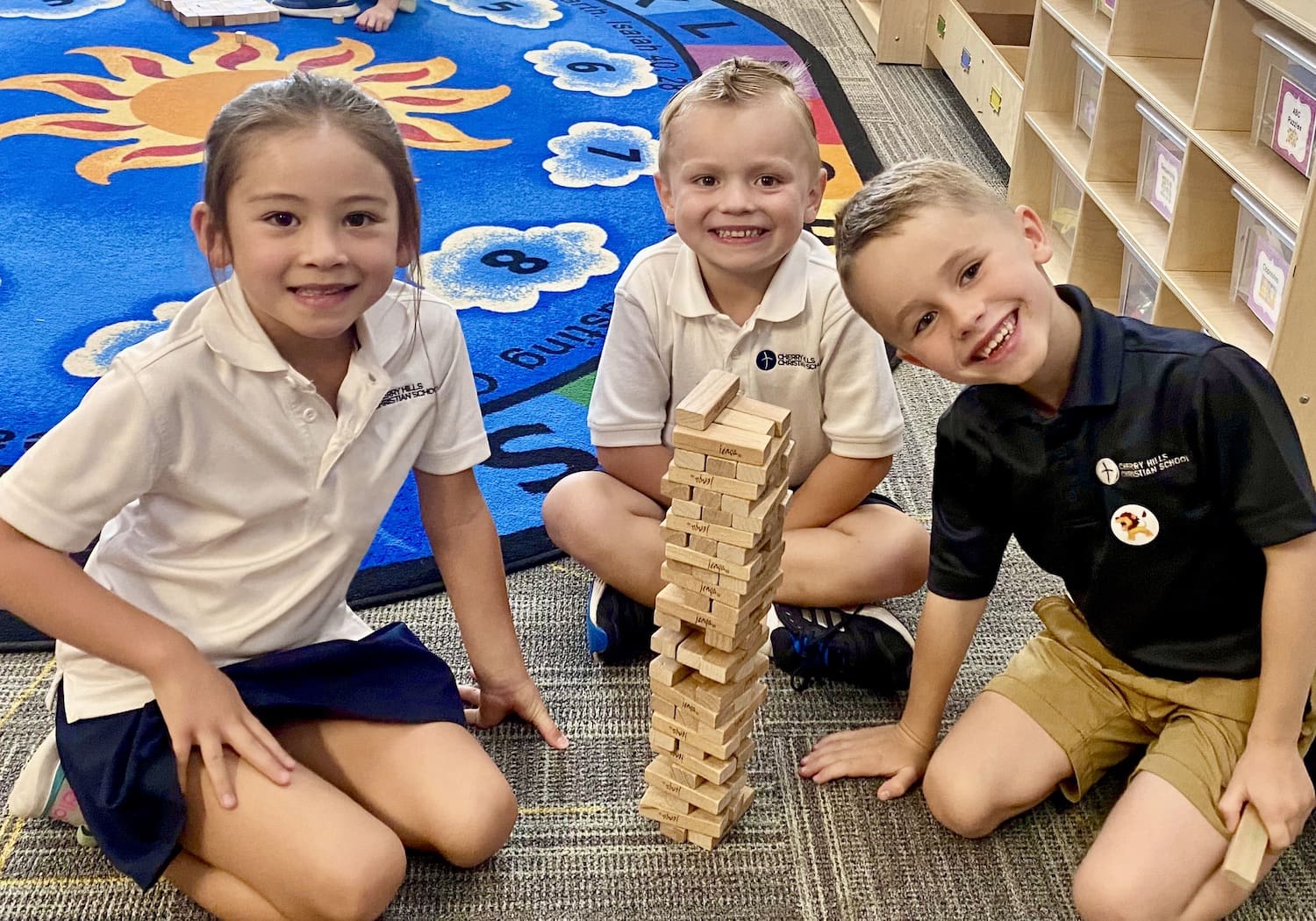 You've got questions about kindergarten, and we're happy to provide answers.
Please contact our enrollment team at 303.791.5500 or submit an online form.
Program Schedule
Kindergarten Programs
Your child's academic readiness matters to us, therefore we offer two developmentally appropriate options for Kindergarten. Both options provide devotionals, opportunities for enrichment classes and play, and the same academic curriculum.
Students attend school three full days on Tuesday, Wednesday, and Thursday.
Students attend school five full days and, on two of those days, they enjoy additional enrichment activities that reinforce the new skills learned for the week.
Daily Schedule
Your child's day is thoughtfully structured at Cherry Hills Christian School — with a blend of small group and whole group learning, engaging hands-on activities and academic play. Here's an example of a typical day for our kindergarteners:
Before & After School Care
Before and after a day full of learning, kids just want to play and that is exactly what our Before and After School Program gives them. Activities include outdoor play, snack time, crafts, and gymnasium activities.
3-Day or 5-Day Program
7:30 – 9:00 am
3-Day or 5-Day Program
3 – 5 pm
Learning Environment
A learning environment focused on God's love.
As a private Christian kindergarten, we partner with you to teach and model a Biblical Worldview for our students. Because we strive to share God's love, we are committed to meeting your child where they are and working to bring out the best in them. In order to maintain a small teacher-student ratio, we have a full-time teaching assistant who helps with any extra support students need. As students transition on from preschool into an elementary school setting, we offer familiar center-based learning and plenty of space to learn through play.
Support & Gentle Direction
With our small class sizes and our 11:1 student-to-teacher ratio, each child is able to receive one-on-one attention.
A Small & Whole Group Learning Approach
In addition to individualized attention, our students also benefit from small group and whole group learning where they collaborate and build relationships with their classmates. By combining these approaches, students gain a greater understanding of core subjects and how to work with others.
An Inquisitive Environment
We foster inquiry-based learning, so our students are encouraged to actively explore, ask questions and discover answers.
An Example of Kindness in Action
We believe each student is a unique gift from God, and we endeavor to treat them that way. The way we interact and engage with the students also teaches students how they should engage and treat others.
To help with learning, our modern campus near Denver, CO, provides kindergarten students with access to an open concept library; a safe, gated playground; outdoor classrooms; and a large STEAM classroom.
Ready to see Cherry Hills Christian School for yourself?
"I am amazed at the growth Finnegan has made this year academically and spiritaully. I know my child is thriving because of the loving, safe environment they feel each day."

Curriculum
Hands-On Learning
Our kindergarten program keeps your child moving and engaged as they gain an age-appropriate understanding of core subjects. All Colorado state standards are met or exceeded through the use of Reach for Reading, Saxon Math, Deep Roots Bible, and Zaner Bloser handwriting.
Core Subjects
Core subject areas for kindergarten students include:
Use of Technology
Because of our dedication to individualized learning, we use the educational app, iXL with our students. Use of the iPads is supervised at all times by our teachers.

Safety Features
To keep your child safe, we provide two security officers daily on our campus. We also require background checks for faculty, staff and visitors; ensure locked doors, hallways, and classrooms; assign walkie-talkies for each classroom; and more.
Meet the Director
MARY JOYCE
DIRECTOR OF CURRICULUM AND INSTRUCTION
Education: Teacher Education Program at The University of Colorado, Denver, and also holds a State of Colorado Principal licensure with an emphasis on Academic Leadership.
Professional Experience: 19 years
---
Mary has a passion for Christian education and our school community. She loves working alongside CHC's teachers and staff to provide the best educational experience for each one of our learners and their families. Her leadership roles at CHC have included serving on the Curriculum Planning and Instruction Task Force, as Curriculum Lead for Kindergarten through Grade 3, as a Grade Level Team Lead, and as a mentor of new teachers. Mary also worked to train and equip teachers across the United States as an instructor for Staff Development for Educators, one of the nation's top providers of professional development for Pre-Kindergarten through Grade 12 educators.
Explore Kindergarten at CHC