Grow and Explore at CHC
You've already taught your child so much through your careful guidance, love, and connection. At Cherry Hills Christian School, we take all of your incredible work as a parent and we build on it to ensure your child continues to learn and develop all the skills they need academically, socially, and spiritually.
We do that by providing an incredible early learning environment where your child is happy, engaged, and safe. Our South Metro Denver campus offers a highly secure environment, and our compassionate teachers encourage your child's curiosity and wonder as they explore the classroom and many learning activities.
So, together, we can help your child meet new friends, keep active and interested in the world around them, and grow in their knowledge of God. Here's how we make that happen:
You've got questions, and we're eager to answer each one of them.
Please contact our Admissions team with for preschool admissions information.
Learning Environment
Playful. Intentional. Biblical.
Experience Preschool at Cherry Hills Christian School.
You've probably noticed what study after study shows: Your child learns best through play.
"Play is fundamentally important to learning 21st century skills, such as problem solving, collaboration, and creativity." — American Academy of Pediatrics
"Play is the highest form of research." — Albert Einstein
At CHC, we use intentional play to teach everything from math to phonetic skills to learning how to get along with peers. And, like you, we build trusting relationships with our students, and we weave lessons about Jesus and the Bible into everyday conversations.
If you look inside a typical preschool classroom at Cherry Hills Christian School, you'll see:
Active, Hands-On Learning Led by Talented, Compassionate Teachers
Our lessons are tailored to our students' ages and developmental levels and attuned to your child's unique educational interests.
Well-Established Safety Practices
We value the trust that families give us. We've taken the best security advice and put it into practice by offering two security officers onsite daily; background checks for faculty, staff and visitors; locked doors, hallways, and classrooms; walkie-talkies for each classroom; and more.
Teachers Who Have Time to Get to Know Your Child
Our preschoolers enjoy small class sizes, with a teacher for every seven to nine students.
Theme-Based Learning Centers that are Rich in Resources
Our classrooms are well-stocked with all the tools your child needs to experience creative arts, math, science, literacy, language and physical development.
Expansive Outdoor & Indoor Play Areas
Our students also enjoy the use of three outdoor play areas and an indoor gymnasium. A school nurse is available daily for health or medical needs.
Curriculum
Individualized Learning
Our teachers meet children where they are and encourage them to reach educational and social goals that are challenging but achievable. We offer open-ended learning activities, so your child can engage with lessons in multiple ways — all while preparing them for their next learning level.
For our preschoolers, we introduce early concepts in Math, Science, Literacy, Language, and Music.
Our youngest students are taught how to keep themselves safe, identify their feelings, use their words with others, take turns, share, and cooperate. Children also learn how to relate to teachers and fellow students in classroom settings. These social and problem-solving skills help ensure your child is ready for kindergarten and successful in life.
A Biblical Worldview
When a child receives a Christ-centered education, an entire family benefits. Our curriculum focuses on practical applications of faith, such as presenting all learning through a Biblical worldview, reading Bible stories together, memorizing verses, praying daily, and singing songs about God. We also model loving, considerate behavior in the classroom and in the larger school community.
Program Schedule
As one of the premier private preschools in the Denver metro area, we're able to work with your family to choose a program that best fits your schedule and your child's needs. We offer half-day sessions from 8:15 am to 12:30 pm and full-day options from 8:15 am to 3:15 pm. Plus, you can choose from two-day, three-day or five-day schedules:
We also offer a relaxed drop-off each morning between 8:15 and 8:45 am, so you can have the flexibility to do what works for you.
Before & After School Care
Our Before & After School Program provides students ages 3 (and toilet dependent) to age 12 with a healthy and safe environment. Our program is designed to meet our families' scheduling needs and to provide them the peace of mind of knowing that their children are engaged in constructive enrichment activities promoting physical, emotional, and intellectual development.
3-Day or 5-Day Program
7:30 – 9:00 am
3-Day or 5-Day Program
3 – 5 pm
Are you ready to get started?
Our Preschool enrollment team will gladly help you and your family move through the admissions process.
I looked into several schools before choosing CHC. It is by far the cleanest, most well-maintained, and most professional school I have seen. Excellent security, excellent staff and teachers, excellent ethics and morals. We absolutely love our child's teachers!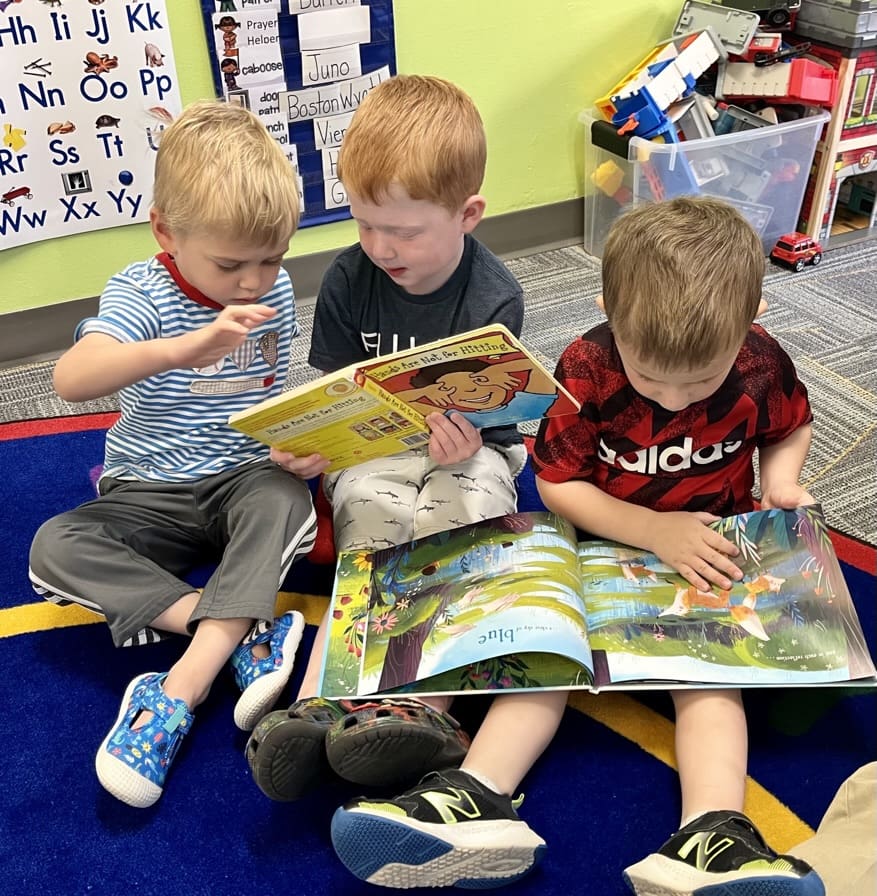 Meet the Director
Kim Snyder
DIRECTOR OF THE PRESCHOOL AND BEFORE & AFTER SCHOOL CARE
Degree: Master of Arts in Educational Administration from the University of Denver
Early Childhood Experience: More than 20 years
---
For nearly two decades, Kim Snyder has worked in the field of early childhood education, specializing in the development of high-quality programming and the assessment of early childhood programs. She has extensive experience in teaching and program administration. Before her arrival at Cherry Hills Christian School, she worked as a teacher and school administrator, and for the State of Colorado as an evaluator of educational programs for infants through school-age children.
"My daughter comes home confidently re-telling Bible stories, proudly displaying her art projects designed to help her remember key lessons."